7x Ironman Champion BEN HOFFMAN is running the Dasher Dash with Rock River Multisport on Saturday, November 30th. For realz. Run with him (in your RRM gear) and let us buy you food and drinks at a Q&A session immediately after. Open to all. You need to RSVP here because there's limited space.

RRM Holiday Part is Sunday, December 1st at 6p. Sabrosa Tex Mex Restaurant in Roscoe. RRM members and a guest are invited. HUGE giveaway list for this year. Please RSVP here.

RRM members can attend the PSX class Saturdays at 10:30a and Thursdays at 5:30p. No catches, just show up and be ready to work out.

Gift guide is updated with an insane deal on my all-time favorite wireless earbuds. I use them every day.

Race #2 of the Rockford Park District's Atwood Fat Bike Race series is Saturday, December 7th. All bikes are welcome, but only those with tires 3.7″ or wider are scored. Details, sign up and contacts to volunteer with setup Friday or the event Saturday are here. I am signed up!
---
I'm not on my knees begging you, but this isn't far off. We're super excited to have Ben Hoffman with us this weekend and would love for you to join us for Dasher Dash and the Q&A afterwards with Ben. We still have several spots open and we're be providing food too.
Even if you are not a current RRM member you should totally join us for this. The top American Professional Ironman is hanging out with us. Super stoked!
1) Pro triathlete Ben Hoffman will be hanging out with the club Saturday, November 30th! His wife is from Rockford and we have been trying for 5 years to make this happen. Well, it's happening.
7:45 AM—Ben plans to run with us at an easy pace during the race. If you would like to join, please meet at 7:45 AM at the Rock River Multisport tent near the Dasher Dash finish line located at Grove and 1st Street. From there, we will head over to the race start.
9 AM—Pictures will follow at 9 AM–also at the RRM tent.
10 AM—Ben will be speaking at Deli Italia. There will be food and drink provided, so we ask that your RSVP if you plan to attend. Follow this link to do so: https://forms.gle/svueoj2tGao51oNq6
2) The RRM Holiday Party is the next day! Sunday, December 1st. We'll be back at Sabrosa's starting at 6p for drinks and 7p for dinner. Paid RRM members can bring one guest. The giveaway items we have lined up this year are nuts. You won't go home empty handed. Please RSVP here!.
Additionally…
You already know that Rockford Park District is utilizing the brand new Atwood mountain bike trails by hosting a FOUR RACE FAT BIKE SERIES! Details for Race #2 are athttps://www.facebook.com/events/1868059033337581/. Your help setting up Friday or organizing and/or tearing down Saturday would be greatly appreciated. Your participation would be even more appreciated. If you don't have a fat bike, but you have a way to transport one (and not lose it for a few hours) get in contact since mine is lonely and dusty.
Don't hesitate to send suggestions for the gift guide. Generally by the winter I'm more interested in tools than endurance sports! Maybe I'll add some miter saws and Knipex Pliers Wrenches next time. There are some additions this week though.
---
Have a great week!
Patrick McIntyre
Rock River Multisport
The 2019 Athlete Gift Guide
What you really want this year
There's some new stuff, some old stuff, and some deleted stuff from previous years. Okay, you won't be able to see the deleted stuff. I'm going to add more each week as well, so keep checking back.
I'm still pretty big on visibility while running and riding, but almost all of my recommendations have changed a little or have been through another year of solid use.
The best running earbuds ever.
Jabra Elite 65t (or Elite Active 65t)
Jabra Elite Link – new, $99
IP56 Sweatproof Elite Active version I use for only $79

I have owned a half dozen pairs of bluetooh earbuds and finally found 'the one.' Don't come at me with your Airpods or Beats garbage. These are for somebody that wants performance and a great price. I know some running stores push Aftershokz, but they are useless if you don't want to hear everything around you. They literally tell you to put in earplugs AND use their device. They are expensive and not lightweight either. Just buy these Jabras for your loved ones and yourself, then thank me later.
I have used them every day since June and have never had one fall out. They are so small and lightweight that they fit into ears really well. The connection is fantastic. They just work every time. They block sound better than anything else I have used, but have a 'transparency mode' which uses the microphones to filter sound in. It's a total game changer. Two clicks of the right earbud and you can suddenly hear everything around you. You never have to remove a bud to talk to somebody. It's fantastic for running because you can hear a car coming up behind you just like you didn't have anything in your ears. Two clicks and you're back to fantastic noise blocking. I can mow the lawn with these in and not have to adjust the volume. There were my ear protection when working on the house this summer. Don't make the mistake of starting your mower with transparency mode on though…..it's LOUD.
Sweatproof, tiny case, great battery life, blah blah blah. You'll see they are incredibly highly rated all over the interwebs. My first pair was a refurbished pair that worked perfectly. Not a mark on them. I flushed an earbud down a toilet (it's a good story!) a few months ago and bought a second pair. Same thing, flawless.
The tiny case fits in my pocket easily and provides several charges. I have accidentally walked into the shower wearing them a few times. They sound great when taking calls. The refurbs for $80 is an unbelievable deal. I didn't get either pair for that cheap.
For 2019, I think the new Bontrager Flare and Ion Pro are very hard to beat.

They have gotten brighter with better battery life at the SAME price. They also have a neat feature where they talk to Garmin watches and computers (and some other brands). They will automatically turn on if you're riding, turn off when you're not and the light levels adjust to ambient conditions. Super bright blinking if it's super bright out and more reasonable brightness for when it's getting dark. There's lots more to say about them, but Googling a few reviews will be worth more than anything else I have to say.
Garmin Varia Rearview Radar


Version 2 came out in 2018 and they are WAY brighter and interact pretty well with newer Garmins. In short, it tells you if a car is coming up behind you and gives you a rough idea of how fast it's approaching. You also have a tail light visible from almost a mile away in the daylight. They are $50 off for a month or so. I would bet a new version is coming in 2020, but I haven't read a single complaint about this unit other than wishing the light was Flare R level of bright. Many say they won't ride without this now.
Goodr Running Sunglasses – $25

This one surprised me last year when I stopped into Fleet Feet. I could write an entire newsletter on these. Just go freaking buy them. The hardest decision is which one to buy since there are TONS of color options and they are ALL good. Go to Fleet Feet and try them one. "Swedish Meatball Hangover" is calling my name to come back and buy them. My wife has a pair and they have been pretty good to her.
I love sunglasses. It's pretty hard to find great athletic ones for a reasonable price. I'm a big of Smith Optics and own three pairs of their glasses for riding or casual use, but they are a little pricey to be handing out to people. Comfortable, lightweight, stylish, and good optics usually makes your wallet hurt. These Goodrs are no bounce, no joke, excellent sunglasses for anything active and casual. Buy a 6 pack and share with friends. Buy them for yourselves and don't share. I don't care. I messed up a pair covering them in sweat a few times and not washing them off, but overall I'm pretty happy. The $20-30 performance sunglasses space is getting crowded, so don't be surprised to see another recommendation next year. The Tifosi Swank sunglasses are incredibly impressive at the same price point, so check those out too.
Ritchey Torque Key – $25


This thing has been on my list for a few years straight. I own two and am still using the same one from many years ago just about every week. It's a tad dorky, but having the right bolt tightness is pretty important on bike parts to keep them from falling apart or breaking. There's hardly a bolt on your bike that 5Nm is too much for or not strong enough for.
This thing is only the size of a couple gel packets and the new versions have a built in holder for extra bits. This one goes with me for most rides since stem or seatpost is my most likely adjustment and they are 5nm on every one of my bikes. My fancy multi tool has been used maybe 4-5 times….this gets used most weeks. Other companies make fairly similar ones as well, but I can't say I have ever needed to try anybody else's. My original one from 2013 is still going strong and matches pretty well to 5nm on my 'nice' torque wrench at home.
Powerbank/Portable Battery
There are a zillion options, but I'm really happy with the Anker branded ones we have had. Pick any size you want though. I one that I can throw in my pack or pocket for epic long rides. For the size and weight of a Snickers, you can make sure nothing runs out of juice.
Here's the tiny one I will throw in a jersey pocket or hydration pack. It's the size of my thumb and will do a full phone charge or two.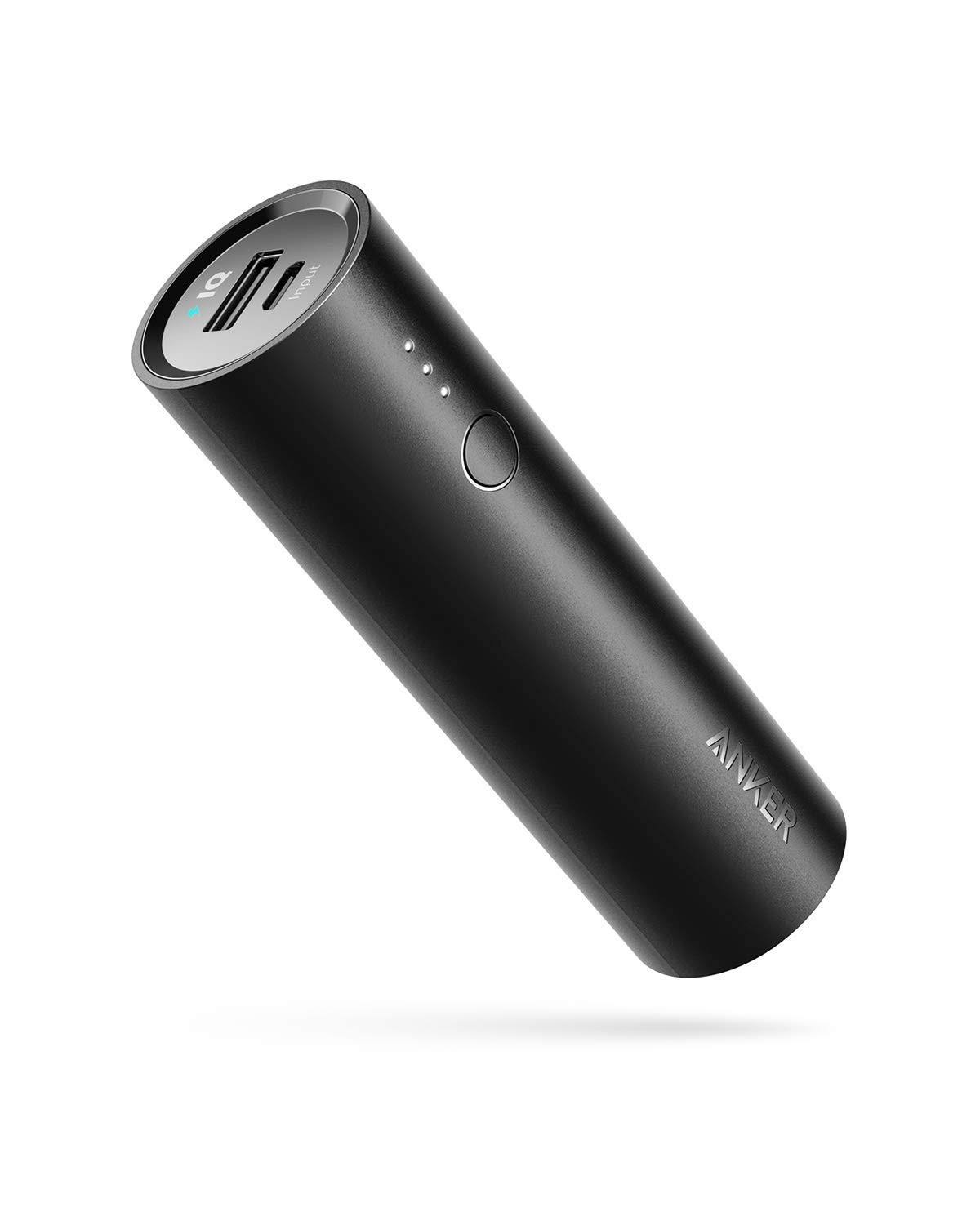 This one below is twice the capacity, but certainly not twice the price.


If you don't want to fool around, this thing will charge your phone, bike computer and lights for a week. while still being small enough to take on a flight. I wouldn't recommend carrying it on the bike unless you're racing me though. I have it and it's fantastic if you have a USB C powered device.

If you grab one of those, I highly recommend pairing it with….
Chafon Multi USB Cable – $9


I slip this thing's USB port into the battery above and I can charge my phone, lights and Garmin all at the same time. It's been pretty sturdy for $9.
Balega Hidden Comfort Socks


I have ran just over 1000 days in a row and nearly every run in 2018 and 2019 has been in these socks. Forget whatever I have recommended in the past. Fleet Feet occasionally has a buy 3 get a 4th free sale on these and I have hit that sale a few times. These got me through a couple 70.3s and a 140.6 with zero blisters. I was amazed since I'm usually picking pieces of my feet off for the week after a race. I bought a couple other Balega styles, but the Hidden Comfort is my absolute favorite. The grey goes with everything, but there's plenty of other colors to choose from as well.
Honorable sock mentions go to two Pearl Izumi models.


The Pearl Izumi Elite Tall (men's model) in yellow is a great match for our new kits and a nice overall cycling sock. I had wanted to love the Swiftwick 4 and 7 sold in many bike shops, but they became a pain to get on and off after a couple washes and they only make XL sizes in a limited amount of models.
Pearl Izumi's Elite Thermal sock is a nice blend between not-too-thick but still pretty warm. I have a LOT of wool socks and this is my go-to favorite for cold weather riding.  I have two and would not hesitate to recommend them for casual wear as well. Their old models used to have weird toes and heels, but these ones don't. I have a couple pairs. They are buttery soft the first few wears and will stay that way if you keep them out of hot water. Ask me how I know.
Semi related to socks, here's a cheap one that most people haven't heard of…
Winter bike shoes are stupid expensive and very, very heavy. Most heat is lost out of the bottom of the shoe, but winter shoes *seem* super overbuilt on the top without any change to the bottom. For $9, I tried these last year and they made a noticeable difference.


They are insulated insoles. Heat isn't escaping out the bottom of your shoe with these in place. There's just two things to consider. 1) They are narrow. I would buy the biggest size and cut it down to mirror your current insoles. 2) They do take up some volume. If your bike shoes are already snug, these are going to make your feet unhappy (put them beneath your current insoles instead of replacing your insoles). I have an older pair of mt bike shoes and an old pair of road shoes that are a little bigger than they need to be and these insoles spent some time in both of them last year. I threw them in my normal mt bike shoes this year for a cx race and had some heel discomfort from how tight the whole setup was.
Tire Pressure Gauge

If you're going to ride a bike, you should be concerned with tire pressure. The lower you go (fat bikes, mountain bikes, cyclocross bikes), the more crucial it is. Nothing is more important than tire pressure when it comes to grip, handling and comfort. It's even true for your skinny tire bike.
The gauge on your pump is crap. Seriously. My "nice" Bontrager pump is off by at least 10psi when tested against my handheld gauge. The cheaper gauges at the hardware store won't work on the presta valves your bike has. You need something specific for bikes. The SKS Airchecker 2 is an updated version and my current favorite hand gauge, especially for mountain bike and cyclocross tire pressures. The current reviews on Amazon are mostly for Gen 1 which wasn't the most durable thing. Amazon reviews are hot garbage anyhow, so stop reading them.
SKS sent me two rebuild kits and I used both fo them in the couple years I had the SKS Airchecker 1. My Topeak Smartgauge D2 is still going strong too and is foolproof if you don't need accuracy lower than 1.0. The SKS will do 1/10th of a psi which is kind of fun. I added a 0-15 psi Meiser Accu Gauge from Kegels for my fat bike last year. I broke it right after the Christmas list, but the manufacturer has a lifetime warranty and sent me a new one. It boggles my mind when I'm in a bike shop that doesn't sell one of these. These should be going out the door with every fat bike purchase along with a rough idea of what settings to use for certain conditions. I use my gauge every time I swing a leg over a bike and will even take it with me on some rides since it's so small. I can't think of a better way to make your bike faster and more comfortable for ~$25. I recommend the SKS for any pressure applications (fat bike, mt bike, cyclocross) and the Topeak for high pressure (road, time trial, triathlon). The Topeak does whole numbers only, but barely lets any air (if it all) escape when taking a measurement. If you only want one gauge and don't care about half a psi, get the Topeak. If you want something super light to throw in your jersey pocket, get the SKS. None of them were super great below 15 psi, so I bought the Meiser just for my fat bike. No batteries either!

Black Diamond Sprinter Headlamp – $80

Okay, I totally get the hype now and have used this a bunch. Previous versions weren't rechargeable or very bright.  $80 is a lot. I own four headlamps and this is the only one worth mentioning when it comes to running. The bands are comfortable, the weight split between front and back makes if feel lighter overall than the one I recommended last year. The bright red light on back (It can be turned off, but why would you?) means no more clipping extra lights to myself. The front light can be made as bright as any other headlamp I have owned and it's easy to switch between settings, even with gloves. I'm running a lot in the dark these days and this thing lets me see all the stuff I don't want to step on and lets vehicles see me and my dogs. It can be turned on and off or adjusted easily with gloves for when you don't want people seeing you pee in their bushes. There's a reason this is overwhelmingly mentioned as the best headlamp for runners….it's really good. One thing about super bright headlamps is that your eyes adjust to the output coming from your forehead. The brightest setting on here is plenty to change your vision, so don't think you need to find anything more powerful. I am going to write up a little more on visibility gear, but the Cliff Notes version is that this is the only thing I'm keeping of the 5 items I bought.
My ears get cold. There, I said it and the whole world knows. I typically run with a headband in anything much under 40 degrees. It's been difficult getting things to cooperate with bike helmets though. A balaclava gets hot in a hurry and the couple cyclings caps I have really don't do anything for my ears. Headbands don't keep the top of your head warm that's exposed to air pouring through your cycling vents. I tried on a couple winter caps before, but they were too bulky to fit well under a helmet. I finally found the one! Yes, I have to open the helmet adjuster a few clicks, but it fits since it's thin material. It doesn't overheat (me) but still holds a bunch of warmth in. The brim is small enough to not get in the way, but keep a reasonable amount of snow or rain out of your eyes. I have ever been running with it for that purpose because snowflakes hurt my eyeballs. Bonus that it keeps some of the headlamp beam out of my eyes while running. Running with a cycling cap looks goofy, but it's been working so well that I don't care. This is a good one for somebody that plans on some winter riding.
Gifts for the Doggos or Doggo Lovers
We have two black labs that I take running nearly every day. Often in the dark. While I'm not thrilled with the Noxgear vest for humans, I have two dog vests that are getting used pretty often with no real problems. There's room for improvement, but there's not room for complaining given they are constantly found for $50 or under. This is the 3rd year for one of them and the 2nd year for the other. Still going just fine.
My dogs are black labs that are invisible in the dark. I had two lights clipped to Cooper's running harness two years ago, but they didn't really point towards approaching vehicles. After a lady literally stopped her car, got out and told me she saw me perfectly, but didn't see my dog (and how her dog was hit by a passing vehicle while they were walking!) I finally bought the….
Lighthound – $50


Cooper and Haley look like aliens when this thing is on. It's very bright and wraps around their torsos. So many products claim to be bright and are a total joke once you turn them on (I'm looking at you GoMotion Gear). There's lot of colors and light modes. It's rechargeable. It would be pretty hard to miss them. That's what I want. Even if the lights are off, they are very reflective. They love going out for runs (on leash) and we both have to be proactive when dealing with people that can't be bothered to pay attention to their driving. It's not a great harness, but it's functional and I'm not finding any weak points on it. The D-ring attachment is attached strongly and it goes on and off without too much hassle. An okay harness with a good light makes it a great product. There's room for improvement, but I haven't seen a better one. (2018 update – I just put these on over the regular chest harness that my dogs wear. The buckles to adjust the straps aren't strong enough to deal with larger dogs that light to take off after squirrels and I'm more comfortable attaching to the mega stitched D-ring of their normal harness. Last year the unit would turn off if we were in air temp in the single digits. I think the solution this year is not to go out in air temp of single digits. Cooper's is still working fine a year later and Haley's appears to be the exact same quality and brightness).
Hands Free Waist Leash – $40
I will never run with a hand leash again. I can't believe I never had one of these with my last dogs. It's in perfect shape after a year of near daily use. The padding distribution is a little wonky, but it's never been uncomfortable. Ruffwear also makes a really good one.
This is the exact leash and harness Cooper and I use.

Now that I have two dogs and a coupler, I keep meaning to go to Fleet Feet and buy the Stunt Puppy Stunt Runner Leash. The EZY dog one is good for a single dog, but the total length of that and the coupler makes me a little nervous when cars are only giving us a couple feet of passing room. The Stunt Runner can be adjusted much shorter so I can keep my knuckleheads a little closer.

Custom Medal Displays
You had a good year and want to show off a little?
Maybe you  are super proud of somebody else and their accomplishments?
Maybe you want your space to be a bit more organized?
Maybe you literally have a pile of finisher medals on the basement floor and your wife would really like you to do something with them but you don't want to throw them out or put them in a box but now you're getting some pressure after one got sucked up by the vacuum cleaner and clogged it and then you had to take it apart and who the heck puts Torx screws on a vacuum cleaner and now the medals are in a cardboard box but you're not happy about it?
That last one is hypothetical of course.
A local high school runner make some really cool, custom medal hangers. I have seen her at Fleet Feet with them and they are super high quality. All the lettering is custom and she uses unique hardware for each hanger. Have her make an "IMWI" one for your 6 IMWI finisher medals or something unique to you. Maybe your name is Keith and you have a hundred finisher medals to hang and "Cowboy Up" is your thing. Just like Burger King, you can have it your way. Get creative.
Email Natalia at gmartino@hotmail.com to see what's currently in stock or to get a custom quote.
Local Cycling Related Events
Club member Ryan Satterlee made a big list of most of local bike related events for 2019. You should check it out at http://nicyc.com/.
Email him at rsatterleeniu@gmail.com if you have any additions. Pretty cool resource!
PSX starts in November – join us for a quick preview session at 8p on Wednesday, October 30th 
RRM Club Meeting
2019 Holiday Party
December 1st
Sabrosa Tex Mex Restaurant in Roscoe
6p-7p Cocktail and social hour
7p Dinner
8p Giveaway
All RRM members are invited and they may bring one guest.
RSVP details to follow 
Atwood Park Face Bike Race Series
Hosted by Rockford Park District
About Rock River Multisport
Rock River Multisport is a non-profit club based in the Rock River Region of Northern Illinois. RRM is built by endurance focused athletes of all skill levels.
RRM focuses on creating a community for collaborative training and mentorship and seeks to promote healthy lifestyles through local opportunities for its members to train and race with a supportive group of like-minded individuals.
We pair athletes together for training and racing opportunities and seek sponsors and local partner affiliations to help our athletes make and achieve their athletic goals in a number of endurance sports (swimming, running, cycling, triathlon, x-country skiing, endurance racing, inline skating, etc.).
Most importantly of all, we want to create a fun atmosphere for people who are interested in sharing what it takes to compete in endurance sports and enjoy life.
While predominately a social club, expect to see exciting training and racing events in areas currently missing from the area!