The Screw City Cyclocross series is back! Register for the first event (

March 25th

) at https://www.bikereg.com/screw-city-cyclocross-classic.

Check out Frostbite 40 THIS SUNDAY February 25th.  It's a 40 mile (mostly) gravel route in Pecatonica. Very scenic, all sorts of different riders (and speeds) with a FUN after party.

RRM Meeting NEXT Wednesday, February 28th. Bike aerodynamics expert El Colyer is speaking. Famous Daves at 7p.

Oh yeah, the cyclocross triathlon club is hosting a triathlon. Most of you knew that, but registration is officially open at https://runsignup.com/Race/IL/Rockford/IllinoisTriathlonChampionship.
---
I had to take a short Uber ride recently and the driver immediately made it known that we weren't going to be friends. He picked me up at the auto repair place and saw three police units at a gas station with no apparent activity. He said something like, "Well, I guess they found a new place to sit around and chat." when none of the units were even within 20ft of each other. He somewhat corrected himself by saying that he didn't really have a problem with the police, but not to get him started on politicians.
I briefly mentioned that I appreciated the Loves Park Police giving us a crapload of bikes last year to work on and donate to local organizations when they could have dumped them at an auction and made a few dollars. They also dumped another load off to a local charity this year (I don't think either party knew how much time and money went into our project last year. I would be surprised if more than 10-15% of this recent load was ready to ride.)
My driver proceeded to tell me he dislikes bicyclists nearly as much as politicians. He lives on Huffman Boulevard and "idiot" politicians decided to get rid of "his" parking spots to put in a bike lane "nobody" uses. I told him I had used it several times and really appreciated having it there as we have very few bike lanes or paths in the area and it was one of the only ways to get south or east of Rockford if coming from the east side of the river. He was sure that I was wrong in my usage and cyclists don't use it. He told me the only times there's ever bicyclist going down that street is on the occasional Sunday in warm months (I think he really meant Monday, Saturday and Sunday) where 20-30 cyclists illegally ride in the middle of the road. I'm pretty familiar with the group he's referring to (that meets where I am typing this from), crosses the river and uses Huffman as part of their escape route into less trafficked roads. I don't agree with a few of those guys not stopping at stop signs when other cars are around and occasionally jackrabbit-ting into traffic when they don't have the right of way, but that's the vast minority. Riding at ~20 mph 2 abreast down Huffman is perfectly legal man.
Anyhow, I figured maybe I should just be quiet. It was clear he was agitated that his parking was stolen and his neighbor had unfairly received tickets for continuing to park in the street instead of his driveway. (History check: Hasn't that stretch of bike lane existed for several years? He spoke like it was very recent. Anyone? Bueller?) The next thing he said was
"Riding in the middle of the street like that, they're gonna reap what they sow. They're gonna reap what they sow."
My first thought was that I had been misusing that phrase my entire life. I googled it and came back with this:
proverb
you eventually have to face up to the consequences of your actions.
Nope, it totally means what I thought. I don't know how any reasonable person could interpret this as anything other than cyclists riding in the street deserve to be hit by a vehicle.
The lack of understanding of how different roads are paid for, what non-motorists rights to these roads are, and the foolish thought that free parking is actually free. (Second spoiler alert: parking is really expensive and the wrong people are subsidizing it. Click on that last link.) I suppose it's not a new mentality, but it is still very frustrating to hear. What if that was just the 'light' version of what he really thought after knowing I was a cyclist and part of a bike-related group that's tried to do some good for the community around them? Eesh.
I got sort of fixated on the phrase, "Reap what you sow." over the last week. Hopefully I did my part by showing him that not all cyclists are evil law breakers and I'll try to remember his concerns when using roads and bike lanes. I'm done thinking about him though.
I'm not done thinking about reaping what you sow though. I think it has a lot of parallels to triathlon and endurance sports in general. There's a fair bit of luck and in-the-moment stuff in the Olympics right now. I was watching the short track XC ski and two people went from the lead to the back after somebody's ski got stepped on. All the training and fitness didn't matter when something as small as one wrong step dumped them. One of the cool things about endurance racing is minor slip-ups may not end your day. People have fixed flat tires, stopped to pick up dropped water bottles or even put on sunscreen in a race and still finished very well. It's also the type of sport where putting in the work ahead of time is really the key to doing well. If you ask 20 decent Ironman distance competitors what they think is the most important, I would guess that most would say "consistency." The "best" plan is the one you follow.
Now is the time to be doing steady runs and rides. Just putting in the time and creating good habits. Work with a masters swim group or a swim coach like Jen Harrison. Have a PhD level physical therapist look at your run stride and help you build your mileage injury free. Run Right with Jon Galas is a great start.  The bike shops are about to get slammed with spring maintence/tune ups so you should jump the inevitable lines and get your bike(s) ready to rip. If you're battling some comfort issues, that same Jon Galas does bike fitting and Coach Mike Norton is a local fitter that happened to be a professional cyclist.  It doesn't hurt that Coach Mike is also the coach for several RRM members with great race resumes. There's some amazing resources in the Rockford area. It's time to start enforcing the consistent habits that are going to make you successful this year.
---
Screw City Cyclocross. Starting Sunday, March 25th at Atwood. There's a newly added "Non-competitive" entry if you just want to try it out. We're also planning on Sunday, April 15th and Saturday, May 12th. Get signed up for the first CX race at https://www.bikereg.com/screw-city-cyclocross-classic.
Frostbite 40 (Presented by Freeport Bicycle Co)
40-mile, self-supported gravel road "race".
Post ride festivities at the American Legion include a raffle of prizes from Trek Bicycle Co. and $500 FBC gift card giveaway! 
This one is FREE, but because it is a fundraiser, FBC will gladly accept donations!
Our May 6th Duathlon sign-up is live. Go to https://runsignup.com/Race/IL/LovesPark/ScrewCityDuathlonand get signed up with the early bird discount. 2018 RRM members get an additional discount, just email me for the code.
It's been a long time in the making, but we're pleased to announce Rock River Multisport's first triathlon. You know we don't do things small. I hope you're ready for the Illinois Triathlon Championship! I was the first one signed up and I'll let you sign up as well. https://runsignup.com/Race/IL/Rockford/IllinoisTriathlonChampionship. 2018 RRM members get an additional discount, just email me for the code.
Club member Ryan Satterlee made a big list of most of local bike related events for 2018. You should check it out at http://nicyc.com/. Email him at rsatterleeniu@gmail.com if you have any additions. Pretty cool resource!
Godspeed,
Patrick McIntyre
Rock River Multisport
PSX
Saturdays at 10:30a through 
February 24th
PSX Training
Paid RRM Members only
RRM Club Meeting
February 28th
7p at Famous Dave's on Perryville
Guest Speaker El Colyer – Bicycle Aerodynamics Expert
Coaching Bio – Elmer M. Colyer
USA Cycling Certified and Licensed Level 2 Coach
Elmer Colyer, "El," as he prefers to be called, has been an avid bicyclist for 25 years. El started racing in 2005. He won the 2007 and 2010 USA Cycling Iowa 40K Masters 50-54 Time Trial Championship and the 2007 American Bicycle Racing 30K Masters National 50-59 Time Trial Championship. He took first place in the 50-54 age division in the 2007 and 2008 Badger State Games Road Race and Time Trial and rode a 28mph 30k Time Trial in May of 2009. At the end of 2008, El was ranked the # 1 Time Trialist in Iowa and the # 2 fifty-three year old Time Trialist in the country by USA Cycling. El understands adversity. He was diagnosed with Splenic Marginal Zone Lymphoma in 2006. He underwent a splenectomy and chemotherapy. He is fine for now, but lives with a question mark like many others with SMZL.
Dr. Colyer is Professor of Historical Theology and Stanley Professor of Wesley Studies at the University of Dubuque Theological Seminary. He holds a Bachelor of Science in philosophy from the University of Wisconsin/Platteville, a Masters of Divinity Degree from the University of Dubuque Theological Seminary, and a Ph.D. from Boston College/Andover Newton. An ordained elder in Wisconsin Conference of the United Methodist Church, Rev. Colyer has served churches in Wisconsin, Massachusetts, Iowa and Illinois.
El is the author/editor of four books and numerous articles and book reviews. He is past president and co-founder of Christian Theological Research Fellowship, a research organization. He also is the co-founder and serves on the Executive Committee of the Thomas F. Torrance Theological Fellowship, another Christian research organization. In addition to theology, Professor Colyer teaches, lectures and writes in the area of personal leadership and management. He has received many honors and awards, particularly for his work as a theological educator, including the 2009 Alumnus of the Year Award from the University of Wisconsin/Platteville. He lives in Dubuque, Iowa, and has three adult sons, Joshua, Jonathan and David.
Arising out of his passion to see others flourish, Colyer started Colyer Coaching as a way to share what he learned about holistic and individualized training for bicycle racing with others. This is at the core of his coaching philosophy and training principles.
El can be reached at 563-542-3729 or ecolyer@dbq.edu.
Peaks Sports Club Indoor Triathlon Series
January 27, February 10, February 24
Do one, two, or all three!
(Blatantly copied from Peak's website)
Sign up now for the Peak Sports Club Indoor Triathlon Series. Triathlon dates are January 27, 2018 / February 10, 2017 / February 24, 2017. You may register for 1 event or for the entire series. ALL ABILITIES welcome! Triathlon consists of a 10 minute swim, 20 minute bike & a 15 minute run all done inside Peak Sports Club.
For more information, stop by the front counter or call 815.877.4401 Members and Non-Members Welcome!
Cost for one event for members is $15 and $25 for non-members. Cost for all the entire series is $40 for members and $60 for non-members. All entrants will receive a shirt.
Anyone 13 and under can register for $10 per event!
NorthPointe Wellness Indoor Triathlon Series
January 27, February 17, March 17
Do one, two, or all three!
6am start for all three
All three races: $40 for members or $65 for non-members
Per race: $15 for members or $25 Non-member
Event t-shirt is $20.
Stop by NorthPointe Wellness or call 815.525.4900 for more info or sign up.
RRM Time Trials


Sunday April 22nd




Sunday August 26th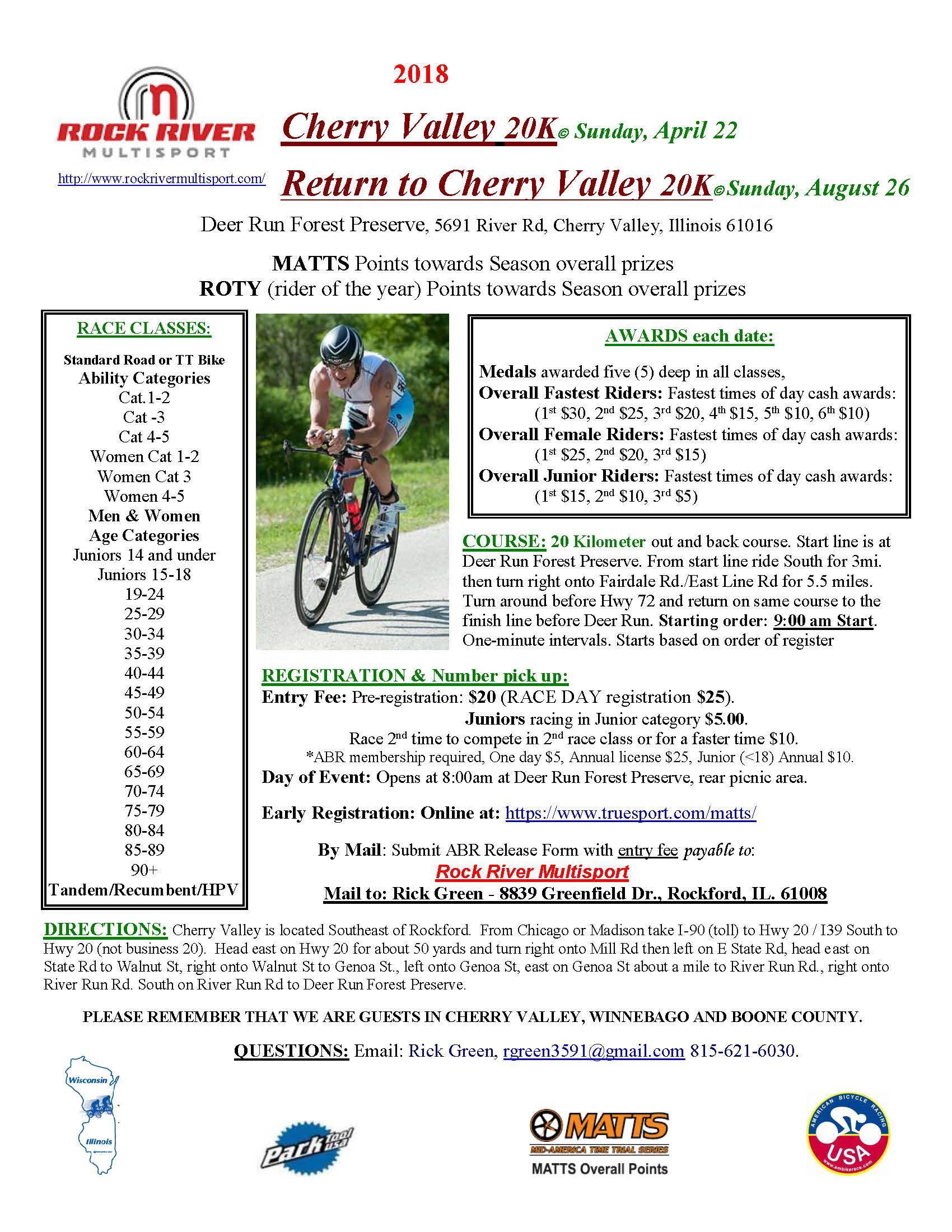 Screw City Duathlon


Sunday, May 6th


9a Peak Sports Club
2 mile Run, 14 mile Bike, 2 mile Run
Price: The early bird price is $35.00 and includes an awesome Screw City Duathlon t-shirt. Prices will increase to $40.00 on April 1 – so register now!
Rock River Multisport members get a special discount code for a $10.00 off registration (email me for the code).
Registration: https://runsignup.com/Race/IL/LovesPark/ScrewCityDuathlon
Packet Pickup:
Friday May 4 –  4:30pm-8:00pm inside Peak Sports Club, Saturday May 5 – 10:20 – noon, and up until 8:30am race day.
FIRST TIME DUATHLON FRIENDLY!
REGISTER AS AN INDIVIDUAL OR AS A TEAM (2 OR 3 PERSON)
Illinois Triathlon Championship


Saturday, August 4th


West Rock Wake Park/Levings lake
https://runsignup.com/Race/IL/Rockford/IllinoisTriathlonChampionship
Sprint & Olympic Distances
Sprint – Open Water Swim .45 Mile, Bike 17 Miles, Run 5k
Olympic – Open Water Swim .9 Mile, Bike 24.8 Miles, Run 10k
Race Details
Registration Fee:
1. Sprint $50.00 until 04/30, $60.00 until 06/30, $65.00 until 08/04
2. Olympic $70.00 until 04/30, $80.00 until 06/30, $85.00 until 08/04
Awards:
1. Prize Money
a. $500.00 – 1st Overall Male & Female
b. $300.00 – 2nd Overall Male & Female
c. $100.00 – 3rd Overall Male & Female
2. Age Group awards.
About Rock River Multisport
Rock River Multisport is a non-profit club based in the Rock River Region of Northern Illinois. RRM is built by endurance focused athletes of all skill levels.
RRM focuses on creating a community for collaborative training and mentorship and seeks to promote healthy lifestyles through local opportunities for its members to train and race with a supportive group of like-minded individuals.
We pair athletes together for training and racing opportunities and seek sponsors and local partner affiliations to help our athletes make and achieve their athletic goals in a number of endurance sports (swimming, running, cycling, triathlon, x-country skiing, endurance racing, inline skating, etc.).
Most importantly of all, we want to create a fun atmosphere for people who are interested in sharing what it takes to compete in endurance sports and enjoy life.
While predominately a social club, expect to see exciting training and racing events in areas currently missing from the area!
Copyright © 2018 Rock River Multisport, All rights reserved.
You're receiving this newsletter because of your connection to Rock River Multisport.
Our Mailing address is:
If you don't want any more of these messages, unsubscribe below. We would love for you to be a part of the club, but no hard feelings if you choose otherwise. If you would rather this message be sent to a different email address or if your name is goofed up, you can "update your preferences" too.
Update your preferences or unsubscribe from this list