NorthPointe agreed to keep the discounted pricing for RRM members only. If you are a RRM member and want to still sign up for the Prairie Triathlon at the early bird rate, email me for the code.
Time trial (bike) workout Tuesday at 5:30p from Baumann Park. Group warm up, 10 miles hard, group cool down.  Bring your triathlon/TT bike or road bike. Some run around the lake after. I'll be leading this workout.
Don't miss our no-drop group ride in Winnebago THIS Thursday evening.  22 miles. Departs from Anytime Fitness at 6p. Road bikes are preferred. You can RSVP or check the route here.
---
Just so you know, we're no longer discriminating against pirates. They can join RRM!
Have a great Memorial Day!!
Godspeed,
Patrick McIntyre
Rock River Multisport
Thursdays active Now
---
Mondays after Memorial Day
Open water swim at Fontana Lake. Vehicles leaving Northpointe at 4-3:30p if you don't want to drive yourself.
---
Tuesdays after Memorial Day
5:30 – Bike Time Trial Workouts. Group warm up for 4-5 miles, individual 10 mile time trial practice, group cool down for 4-5 miles. Most people run a little around the lake afterwards. The PERFECT triathlon workout.
---
Thursdays (Active NOW)
Group rides of ~25 miles. Casual pace, nobody left behind.
1st, 3rd and 5th Thursday night of the month in Winnebago. Meet at Anytime Fitness parking lot. Departsat 6p. Afterwards, there's the option to walk next door to Toni's for drinks/food.
2nd and 4th Thursday night of the month in Rockton. Meet at Stephen Mack Middle School. Departs at 5:30p.
RRM Club Meeting
All done until September! Watch this space for the summer party.
The Prairie Triathlon at NorthPointe


Saturday, June 9th


9a Peak Sports Club
Sprint TriThey have given RRM Members a discount code. Email me for it. The price goes up quite a bit on May 14th, so this is something to sign up for earlier than later. Registration at
 https://runsignup.com/Race/IL/Roscoe/ThePrairieTriathlonatNorthPointe.
350 yard 'serpentine' swim in the seven lane pool.
17-mile country road open course on rilling hills.
3.1 mile run on the NorthPointe trails which are a mix of blacktop & crushed limestone sections.
ENTRY FEE:
Individual: $55.00
Team: $110.00
Fees increase May 14th
Individual: $70.00
Team: $140.00
RACE PACKET PICK UP:
NorthPointe Wellness
Friday, June 8th 4:00 – 7:00 PM.
Race day packet pickup: 6:00-7:00 AM
FREE Fit n Fun Fair with exciting activities for kids 8:00-11:00am
Race Entry Fees go to Benefit the Stateline Boys & Girls Club!
Illinois Triathlon Championship


Saturday, August 4th


West Rock Wake Park/Levings lake
https://runsignup.com/Race/IL/Rockford/IllinoisTriathlonChampionship
Sprint & Olympic Distances
Sprint – Open Water Swim .45 Mile, Bike 17 Miles, Run 5k
Olympic – Open Water Swim .9 Mile, Bike 24.8 Miles, Run 10k
Race Details
Registration Fee:
1. Sprint $50.00 until 04/30, $60.00 until 06/30, $65.00 until 08/04
2. Olympic $70.00 until 04/30, $80.00 until 06/30, $85.00 until 08/04
Awards:
1. Prize Money
a. $500.00 – 1st Overall Male & Female
b. $300.00 – 2nd Overall Male & Female
c. $100.00 – 3rd Overall Male & Female
2. Age Group awards.
RRM Time Trials


Sunday August 26th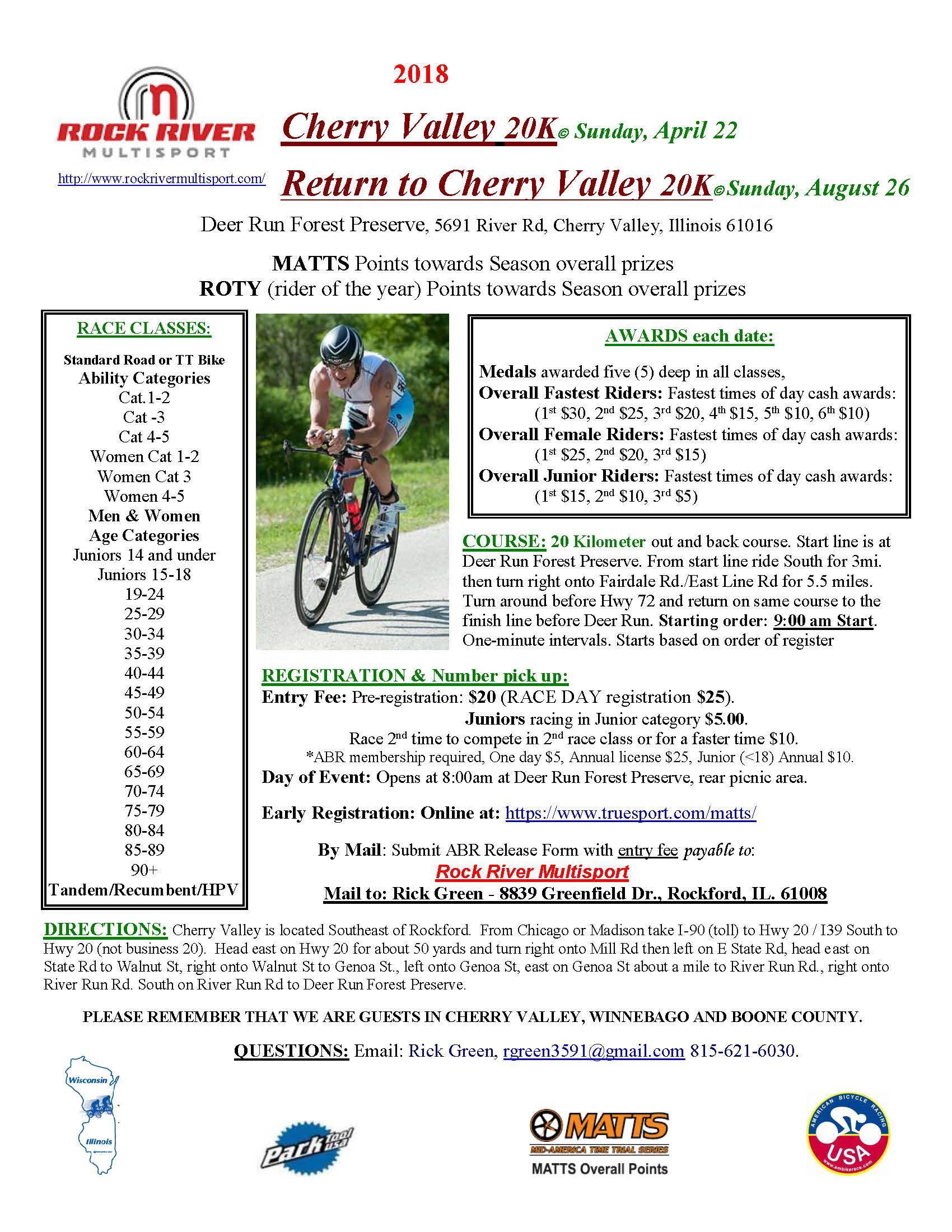 Local Cycling Related Events
Club member Ryan Satterlee made a big list of most of local bike related events for 2018. You should check it out at http://nicyc.com/.
Email him at rsatterleeniu@gmail.com if you have any additions. Pretty cool resource!
About Rock River Multisport
Rock River Multisport is a non-profit club based in the Rock River Region of Northern Illinois. RRM is built by endurance focused athletes of all skill levels.
RRM focuses on creating a community for collaborative training and mentorship and seeks to promote healthy lifestyles through local opportunities for its members to train and race with a supportive group of like-minded individuals.
We pair athletes together for training and racing opportunities and seek sponsors and local partner affiliations to help our athletes make and achieve their athletic goals in a number of endurance sports (swimming, running, cycling, triathlon, x-country skiing, endurance racing, inline skating, etc.).
Most importantly of all, we want to create a fun atmosphere for people who are interested in sharing what it takes to compete in endurance sports and enjoy life.
While predominately a social club, expect to see exciting training and racing events in areas currently missing from the area!
Copyright © 2018 Rock River Multisport, All rights reserved.
You're receiving this newsletter because of your connection to Rock River Multisport.
Our Mailing address is:
If you don't want any more of these messages, unsubscribe below. We would love for you to be a part of the club, but no hard feelings if you choose otherwise. If you would rather this message be sent to a different email address or if your name is goofed up, you can "update your preferences" too.
Update your preferences or unsubscribe from this list