Return to the Hills was ridiculous. Probably the most fun course we have ever had on a day with the least fun weather we have ever had. Thank you so much to those that participated by racing or volunteering. Since you're probably sick of me writing about our cyclocross events, one of our women's elite racers was kind enough to share her write up below.

This Sunday is the Cherry Valley 20k Time Trial. 
Sign up here.
 Two club events in 8 days! We really need a couple more people to marshal the course. If you can spare an hour or two Sunday morning, please reply.
---
We'll give cyclocross its own little section, just scroll some more. I don't have many pictures, but I do have results and a shared write-up. Don't forget about race #3 in just a few weeks where I can promise better weather. https://www.bikereg.com/dam-cross-race. If you have a mountain bike, cyclocross bike, or anything with some knobs on the tires, it's for you. We have a LOT of fun.
Cherry Valley 20k Time Trial. It's on Sunday, April 22nd. No swimming, no running, no dismounts or barriers. Just head down pedaling. Sign up at https://www.truesport.com/index.php/events/truesport_event/764. If you can volunteer for a couple hours (registration or standing at a turn) then registration is free. Or you can help out for a little bit without racing. The corner at River Rd and Fairdale is always a party. Just email the race director by clicking here if you want to volunteer.
Our May 6th Duathlon sign-up is live. Go to https://runsignup.com/Race/IL/LovesPark/ScrewCityDuathlonand get signed up with. 2018 RRM members get an additional discount, just email me for the code.
Godspeed,
Patrick McIntyre
Rock River Multisport
Return to the Hills (and Winter)
Podium pictures here.
Search #screwcitycx on social media for more pictures.
---
Ah, now you're down to the good stuff. Maybe it's your first time joining us? Welcome. We're the triathlon club that's never hosted a triathlon, but have done a half dozen cyclocross races. It's nice to meet you.
It's no secret the weather was terrible Saturday and Sunday. I truly can't think of a worse combination of snow, sleet, rain and wind. It would have been better if it was colder since it would have been snow instead of wet. It would have been better if it was warmer since it would have been warmer. Ok, that's really all we can whine about because the rest was great!
Seriously. It was loads of fun with a super cool course and great attitudes. If you weren't there, you missed out. Highlights?
Got to meet everybody? Check.
Epic course? Check.
Safe event? Check.
Everybody jumping off their bikes and pitching in to help afterwards despite being cold, muddy and probably tired? Check.
When I had already been outside a dozen or more hours over the weekend, it really means a lot how many people stuck around ALL day or later than scheduled to help tear down the course and load the truck. It makes a big difference. Thank you!!
---
One thing we do right is equal cash payouts for both our mens and womens podium for the 'elite' race. Giving away cash to 5 of the 10 entrants in an event that lost hundreds of dollars is not something we could probably do long term, but I believe it's going to help us grow in the right direction. If you follow cyclocross at the international level, it's been a bit boring on the men's side and there really aren't any USA guys competitive at that level. The USA women are killing it. Just awesome. Katie Compton, Ellen Noble and Kaitie Keogh are some of the best in the world right now. There's many other USA based women who are crushing international competition. I'm so happy that we have women bike racers driving quite a ways to come to our events, line up with a bunch of guys and then ride hard. It's so great to see! Laura Shields was one of the new faces to drive through terrible conditions and sign up day-of. She's great!
Laura was kind enough to share a write-up with me and agree to having it be shared with the rest of you. I really enjoyed it and I hope you do too. Thank you Laura!
Copied from https://laurashields.wordpress.com/2018/04/17/race-report-screw-city-cx-2-return-to-the-hills/. You're way better off reading it directly from that link than my copied nonsense. Her pics are good too!
Race Report: Screw City CX #2 Return to the Hills
April 17, 2018
Initially, I wasn't sure whether I'd be up for a cross race just a couple days after finishing 4 Skyway Classic crit races in a row. My partner Thomas and I had planned on playing it by ear and waiting as long as possible to pre-register for Screw City Cyclocross: Return to the Hills. We thought pre-reg was open up until the night before, but we realized too late that it had closed in the morning. We decided that we'd still go and reg day-of, regardless of the bad weather predicted. Neither of us had never done a 1 hour CX race before and it sounded fun. Why not do a CX race to take advantage of the crappy weather?
The day started out with the temperature hovering around freezing (32F) and actively precipitating. Our drive out ended up being rather treacherous. What started as rain in Chicago turned to sleet about halfway to Rockford. Moments after realizing that we were driving on ice and slush, we saw multiple cars lose control and spin out, with some ending up in the ditches on the side of the highways. Luckily, the roads got better as we got closer to Rockford, even though the snow continued for the next several hours.
We arrived later than planned, but it wasn't an issue. With very few people there, there was plenty of close parking available and the race organizers were laid back. Registration was at a table inside a truck trailer. Riders were huddling inside to keep warm and chat. When we told the guy at registration that we were day-of registrants, he was surprised and delighted! After registering for the Men & Women 1/2/3/4 Race, we got our bibs. These turned out to be unused bibs from the Rockford Triathlon, ha!
In the parking lot, I greeted Molly – the only other female I saw besides my BFF Bikes Racing teammate Kris. I'd met Molly last week when we went head-to-head at the finish line of Skyway race #1. While chatting with her at Skyway, I discovered that she does some fat biking and even did a snowshoeing / fat biking duathlon, so I wasn't surprised that she was doing 2 Screw City races!
I put on the same gear that I'd been wearing to every [cold] race this past month: a merino cap under my helmet, merino mid-weight long sleeve base layer with a normal jersey over that, normal bibs with thermal tights over, mid-weight socks, CX/MTN shoes with toe covers, and lobster gloves with hand warmers inside. At the last minute, another racer offered me his spare balaclava so I swapped my cap out with that for more face coverage. I felt very cold prior to the start and worried it wouldn't be enough, but it turned out to be just fine.
Thomas and I didn't have time to warm up or pre-ride before race start. There were maybe 12-14 people, the only two women being Kris and I. We staged two abreast, with Thomas and I at the rear (the price you pay for day-of). They gave us the 30 second warning, then blew the whistle a few seconds later. Everyone blasted ahead of me. I figured I'd probably be doing my own race, trailing behind everyone for the next hour. I didn't mind though, it would give me a chance to work on my handling skills. It was nice being able to choose my own lines everywhere – the course was generally narrow. Plus there was a chance some people would DNF or burn themselves out while I continued at a steady pace.
The race was set at a snow park primarily used for skiing and zip-lining. This made for a really awesome cyclocross course! The course itself was actually quite short, about 5 minutes per lap, but it had everything! Grass, mud, snow, ice, gravel, puddles, pavement, and maybe even a bit of sand. There were buildings and bridges, hills and forests, twists and off-camber turns, low grades and steep climbs, and they even added a small lumber barrier.
The course was definitely more technical than fast. I found myself having more cardio energy than usual, but not being able to go faster due to my handling abilities and the constant terrain changes. There were a few times that I couldn't stop my rear wheel from spinning while climbing slippery hills and ended up having to get off the bike, but I managed not to fall or crash. At one point, I also had to clean off my glasses to see, which they warned us about at the starting line 
At the beginning of Lap 2, there was a moment when I suddenly couldn't pedal anymore. It wasn't just mud and gunk, something had seized up. I got off the bike and found out my cassette had eaten a good amount of felled course tape. I couldn't take the rear wheel off – it's thru-axle and I didn't have tools on me. I did my best to quickly pick out the tape and get back on the bike. Immediately, my chain dropped. I popped the chain back on and tried again. Nope, the chain went off again. So I took the time to take off my gloves, dig through the spokes, and get the remaining tape out, waving to the other riders as they lapped me. Never had another issue for the rest of the race.
The worst part of the course was this short section of packed down snow and ice. It was painfully and erratically bumpy and got worse as the race went on. The best part of the course was this winding downhill after the lumber barrier. With each new lap, I felt more confident in my handling and zipped down that hill, taking all the twists without braking. I grinned widely as I sprayed mud everywhere and dodged the overhanging tree branches.
The few spectators that were out there shouted encouragement from the sidelines as well as the zip-line overlooks. At one point, the race organizer said to me, "You're doing great, I'm glad you're here!" and I shouted back, "Me too!" The ChiCrossCup announcer Kenny Labbé was there, as son was racing in the next race. Kenny couldn't help but call out encouragement to everyone as they passed.
After the race ended, Patrick, the race organizer, gave Thomas and I a couple of pre-registrant goodie bags. There were a number of no-shows and I think he wanted to reward us for showing up in such difficult conditions. Since Kris and I were the only two women in the 1/2/3/4 race, Team BFF dominated the podium! Kris in 1st place and myself in 2nd. Second place also happened to be last place, so it was pretty cool to get a payout for last place, ha! The 1/2/3/4 men had a full podium of 5 racers, which is the amount of places they did payouts for.
Thomas and I bailed fairly quickly after our race. One of Thomas' Half Acre teammates had recommended that we grab post-race lunch at Beef-a-Roo, only a few minutes away. We parked and before we headed in, I wanted to see what was in our pre-reg goodie bags. Water bottles and Beef-a-Roo coupons, how perfect!!! We walked in and asked the cashier what we should order since it was our first visit. She looked stunned, as if she could not fathom how we'd never eaten their delicious food before, haha! The food was good, though I think we missed out on their best item: shakes. Each of their shakes comes with a tower of delights on top, like wafers and a small cupcake!
The drive back was happily uneventful.
To conclude, I highly recommend this race series by Rock River Multisport! There is still one race left in the series on Saturday May 12, so go get registered! Also, a special thank you to my BFF teammate Leah for constantly hounding me to sign up 
Thanks Laura!!
That's really all I have to say because it's late and I have a class tonight!
Starting back up in May – Watch this space
RRM Club Meeting
April 30th
7p
RRM Time Trials
Sunday April 22nd
Sunday August 26th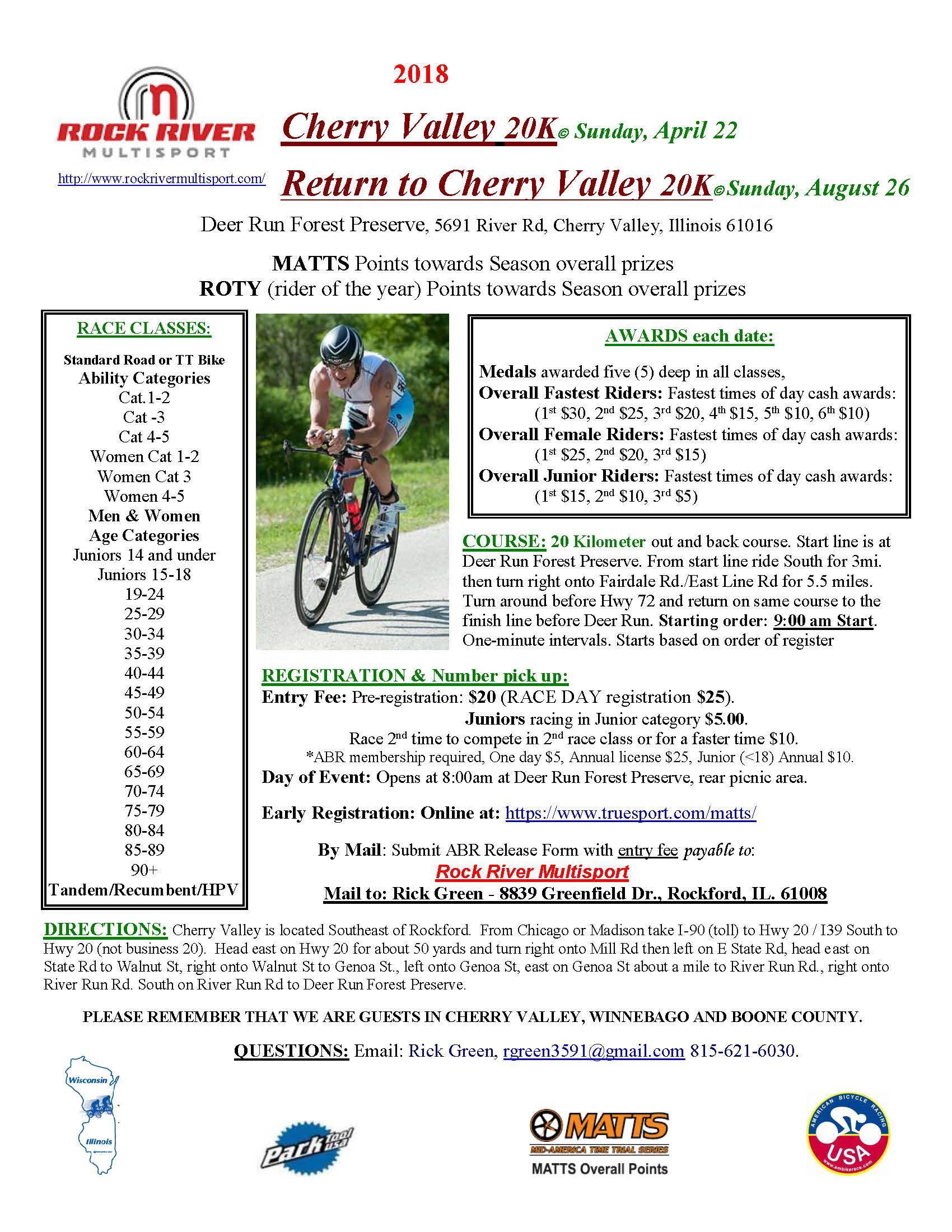 Screw City Duathlon
Sunday, May 6th
9a Peak Sports Club
2 mile Run, 14 mile Bike, 2 mile Run
Price: The early bird price is $35.00 and includes an awesome Screw City Duathlon t-shirt. Prices will increase to $40.00 on April 1 – so register now!
Rock River Multisport members get a special discount code for a $10.00 off registration (email me for the code).
Registration: https://runsignup.com/Race/IL/LovesPark/ScrewCityDuathlon
Packet Pickup:
Friday May 4 –  4:30pm-8:00pm inside Peak Sports Club, Saturday May 5 – 10:20 – noon, and up until 8:30am race day.
FIRST TIME DUATHLON FRIENDLY!
REGISTER AS AN INDIVIDUAL OR AS A TEAM (2 OR 3 PERSON)
Illinois Triathlon Championship
Saturday, August 4th
West Rock Wake Park/Levings lake
https://runsignup.com/Race/IL/Rockford/IllinoisTriathlonChampionship
Sprint & Olympic Distances
Sprint – Open Water Swim .45 Mile, Bike 17 Miles, Run 5k
Olympic – Open Water Swim .9 Mile, Bike 24.8 Miles, Run 10k
Race Details
Registration Fee:
1. Sprint $50.00 until 04/30, $60.00 until 06/30, $65.00 until 08/04
2. Olympic $70.00 until 04/30, $80.00 until 06/30, $85.00 until 08/04
Awards:
1. Prize Money
a. $500.00 – 1st Overall Male & Female
b. $300.00 – 2nd Overall Male & Female
c. $100.00 – 3rd Overall Male & Female
2. Age Group awards.
Local Cycling Related Events
Club member Ryan Satterlee made a big list of most of local bike related events for 2018. You should check it out at http://nicyc.com/.
Email him at rsatterleeniu@gmail.com if you have any additions. Pretty cool resource!
About Rock River Multisport
Rock River Multisport is a non-profit club based in the Rock River Region of Northern Illinois. RRM is built by endurance focused athletes of all skill levels.
RRM focuses on creating a community for collaborative training and mentorship and seeks to promote healthy lifestyles through local opportunities for its members to train and race with a supportive group of like-minded individuals.
We pair athletes together for training and racing opportunities and seek sponsors and local partner affiliations to help our athletes make and achieve their athletic goals in a number of endurance sports (swimming, running, cycling, triathlon, x-country skiing, endurance racing, inline skating, etc.).
Most importantly of all, we want to create a fun atmosphere for people who are interested in sharing what it takes to compete in endurance sports and enjoy life.
While predominately a social club, expect to see exciting training and racing events in areas currently missing from the area!
Copyright © 2018 Rock River Multisport, All rights reserved.
You're receiving this newsletter because of your connection to Rock River Multisport.
Our Mailing address is:
If you don't want any more of these messages, unsubscribe below. We would love for you to be a part of the club, but no hard feelings if you choose otherwise. If you would rather this message be sent to a different email address or if your name is goofed up, you can "update your preferences" too.
Update your preferences or unsubscribe from this list